The upgraded photogrammetric platform, PHOTOMOD 7.3, is now available: new functions and reliability
Date: 3 october 2022
Type of publication: news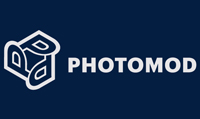 PHOTOMOD 7.3 is the continued development of our new approach to photogrammetric processing of remote sensing data. Photogrammetric platform PHOTOMOD consists of several software components joined together by general algorithms, ideology, and data organization, and can function on numerous computing facilities.
We have made a number of great new functional improvements to create PHOTOMOD 7.3 faster and robust:
New functions and algorithms modifications:
• NDVI calculation statistics
• NDVI-index recording into the LAS point cloud
• Changes in the algorithm of bridge inserting during orthorectification
• Support of newest Chinese satellite sensors
• Transforming LAS into a DEM and TrueOrtho
• Modifying the Voronoy diagram's calculation algorithm during orthoimage creation
• Additional options for TrueOrtho global adjustment
and more.
PHOTOMOD AutoUAS:
• Recalculating external (LAS) point cloud into the project's coordinate system
• Interface improvement
• External camera support in PHOTOMOD format
• 3D-TIN model export to open in Cesium
---

Download new version

PHOTOMOD 7.3 Change Log

Documentation
For upgrade information: +7 (495) 720 51 27 or com@racurs.ru. For technical issues: +7 (495) 720 51 27 or support@racurs.ru